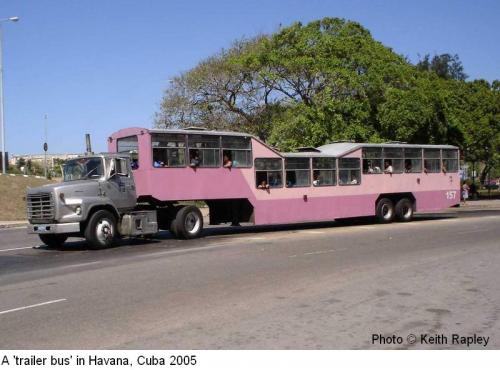 Trailer buses used to be fairly common. They were mostly abandoned by the early 1960s, having had a number of disadvantages when compared to conventional vehicles.  They often needed to employ both a driver (in the tractor) and conductor (in the trailer), for example, which greatly increased their operating costs.
A few cities, such as Munich, have recently started using some trailer buses again. Today's trailer buses have the ability to automate away some of their previous disadvantages. They use digital payment systems and camera-monitors in order to do away with the need to employ a conductor, for instance. They also use rear-view and side-view cameras to help the driver keep the trailer from moving out of sync with tractor — and in the future they might use other driver-assist technologies to do so even more smoothly. The process of coupling and uncoupling the tractor and trailer from one another may also be automated, making it easier to add the trailer segment for use during rush hour and then decouple it from the tractor during less busy times of day when it is not needed.
In Switzerland, where hydro-electric dams have made electricity cheap and clean, trailer buses also come in trolleybus form:
Trailer buses can also be used to transport cargo, either by having a bus tow a cargo trailer, or by having a tractor unit alternate between towing a passenger trailer and a cargo trailer.  
This got me thinking again, in a roundabout way, about what might happen as companies automate the process of receiving deliveries of cargo, for instance by automating the unloading of trucks and the warehousing of their contents.  This would presumably allow more deliveries to take place at night, when warehouse labour would otherwise be expensive. It would therefore allow trucks to avoid daytime traffic.
Electric trucks would seem to be especially well-suited for nighttime deliveries, because they are much quieter than diesel trucks and because range-anxiety would be lessened when there are no traffic jams to get stuck in.
Best of all might be trolley-trucks, which, unlike battery-powered trucks, can operate 24 hours a day without needing to have their batteries charged. (Batteries, especially the big ones that  cargo trucks need, have many other economic and environmental costs to worry about too). Trolley-trucks would also benefit from avoiding daytime traffic, especially if they were sharing their wired routes with daytime trolleybuses, or if they were using small batteries to travel short distances off-wire. They would also benefit from the fact that electricity prices tend to be cheaper overnight than during the day.
Perhaps most intriguing of all is the possibility of a trailer trolleybus-trolleytruck hybrid, where the trolley tractor unit pulls a passenger trailer during the day and a cargo trailer at night. Such a system could allow a city to buy fewer trolley tractor units, which tend to be more expensive than the trailers (especially if they have new, smart-pantograph wire-gripping technology) and then maximize their use by operating them close to 24 hours a day.   It might also help to address the first-mile/last-mile issues associated with trolley vehicles; namely, the question of how to use them off-wire. The cargo trailers could be pulled by diesel or battery-powered tractor units in off-wire areas, then decoupled and attached to trolley tractor units for the the wired section of the route.
This process might be useful for the passenger trailers too, if there are times when non-wired bus routes become in higher demand (a sporting event, for example), or if electricity is unavailable (if there is an extended blackout, for example), or if extreme weather puts the trolley wires out of service.